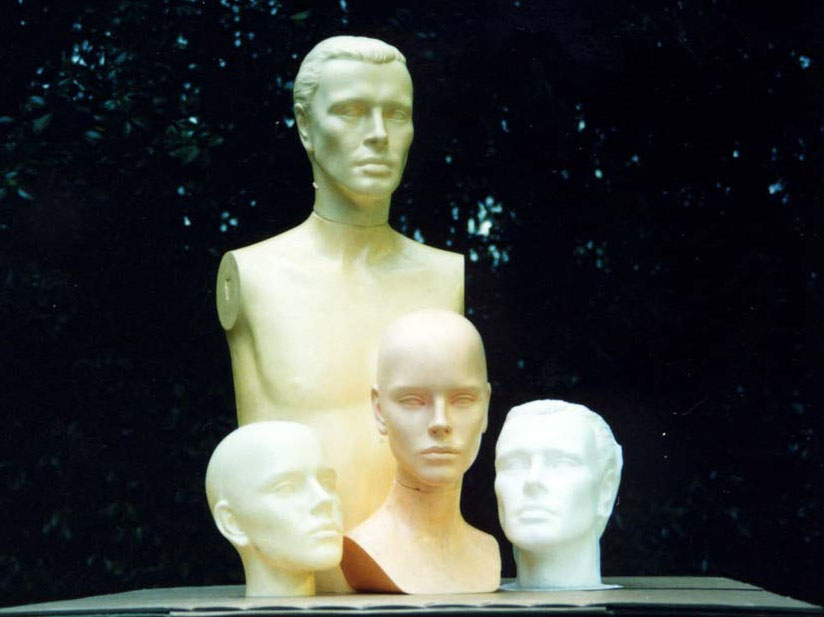 HAPLA POLYCAST is hard and extremely though polyurethane resin.
It is two-component material with very low viscosity.
Swiftly react and form tough resin after combin two components.
No glass-fiber is used. Safe!
Feature
・resin
Hard and tough resin
Safe products(glass-fiber free)
・Materials
Swifty Reaction(within a few minites at room-temp.)
Safe operetions(solvent free, glass-fiber, low smell)
Note:Containing plasticizer
・Manufacturing
Casting
By spray molding or rolling,it can be moleded large one.
How to make a simple resin mold using silicon or polycastp(polyurethane) materials.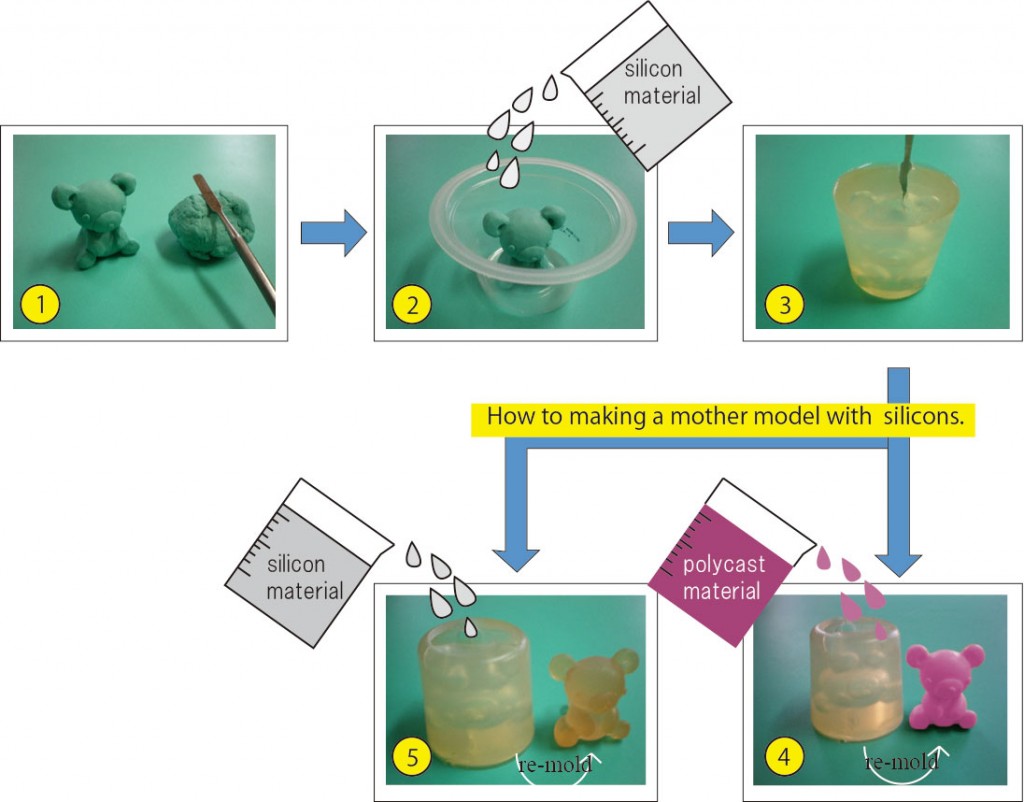 ①Forming the oil-clay into a  bear model.
②figure: silicon materialsSetting the bear clay model into plastic vessel and pouring Silicon RTV material into it.
③After the silicon materials harden, cut the silicon resin by half with cutter knife.And scrape out the bear clay of silicon resin.
Simple mold by silicon resin is completed.
④You pour polycast materials into the silicon mold without using release agent. The polycast mixture reacts so rapidly to a rigid-resin.
You re-mold the resin and and get a rigid products after cooling.
⑤You paint a release agent on the silicon mold,and pour the same silicon materials into the mold.
You re-mold the harden resin from the mold,and you get a silicon product. It is called as Mother Model.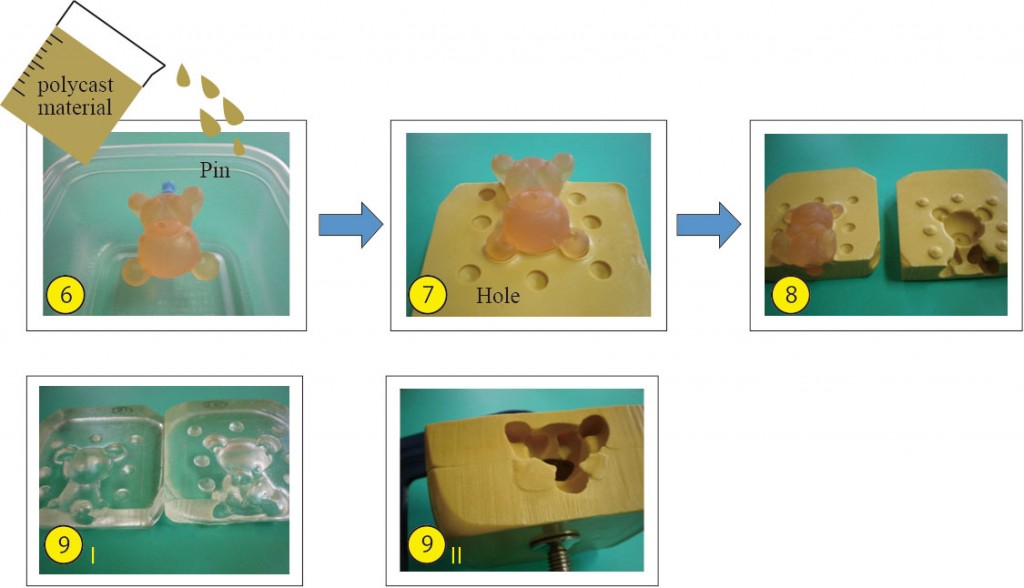 ⑥You hung the silicon mother model on the vessel wall with a pin.
You pour the polycast materials into the vessel till the mother model disappear by half.
⑦After cooling the half mold, take out the half mold from the vessel and drill some holls in the mold surface.
⑧Put the half mold with silicon mather model into the vessel again.
You paint release agent on the surface of the half mold, and pour new polycast materials into the vessel till the mother model is disappear completely.
After cooling the resins, take out the molds.You release the mother model and bring the simple resin mold to completion.
⑨Ⅰ.You can get clear resin mold with clear materials.
⑨Ⅱ.You get a resin mold for productions bu using polycast materials.
ZERO ONE
ZERO ONE is one of POLYCAST and designed especialy for spraying.
It is a two-component blend. The mixture reats so rapidly to rigid resin within a few sec..
Properties
ZERO-ONE(Designed 2-component materials for Spraying )
ZERO ONE Materials
2-component(A & B)  polyurethane materials
As soon as A mixed with B, the mixture reacts rapidly to a rigid resin within 3~5sec..
Spraying System
You need the special spraying machine for mixing 2-cpmponent by high pressure.
I recommend "Gusmer H-2000(Graco Co,USA) "or "High Pressture Dispensing Equipment H-40[US Gusmer made](東邦機械工業㈱).
Mold
Open Mold made of FRP with release agent is used generally.
Producting
When you spray ZERO ONE materials by Gusmer machine to FRP Mold,material A is mixed with B in air,and the mixture make rigid resin so soon.
You can produce a large products easily.
It takes about 5 min. to spray.
You can re-mold the products within 20min.